Dolly Parton By Candlelight
An immersive evening of candlelight entertainment, featuring a performance from one of the world's leading award winning Dolly Parton tribute artists.
Please follow/like/share our social accounts, where you will have access to early ticket release, discounted tickets, upgraded tickets, and discounted merchandise.
Facebook: UniqueCandlelightConcerts
Instagram: UniqueConcerts
---
TICKET INFORMATION
Doors open 6.45pm, show starts at 7.30pm and finishes at 9.45pm. Tickets are available online, ticket prices range from £15-£42.50 (plus booking fee). This show is suitable for all age ranges.
Wheelchair and Ambulant Guests will be issued with a free carer ticket (subject to carer provisions being met). Please call our booking line 07787 362985 to discuss the purchase of carer tickets. We have ambulant and carer seats in all of our price banded sections.
To book a seat simply select the seats that you wish to purchase from the seating plan, these seats will then be added to your basket. Allocated seats are generally in price band sections VIP to Band D and all of these seats will provide unrestricted views.
Occasionally we may offer unallocated seating, if so this will be shown on the plan. Simply go to the unallocated seating section beneath the seating plan and select within which block section you wish to purchase your tickets. These seats are on a first come first served basis and you will simply select your seat upon arrival. Unallocated seats are generally in price band sections Band C to Band D these seats provide a mixture of restricted and unrestricted views, so please arrive early if you have booked unallocated seats. We guarantee that spare seats will always be left available within these unallocated sections.
TICKET PRICE BANDS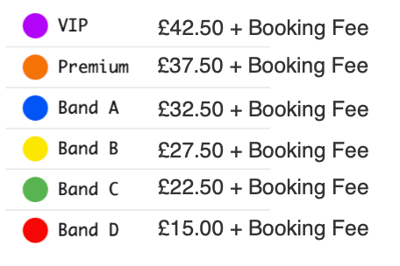 REFUND POLICY
We apologise but we are unable to offer refunds or exchanges on our ticket sales. If you hold a ticket and are unable to attend you can pass or sell this ticket onto a third party. The ticket cannot be re-sold above its face value.