Adele By Candlelight
Experience an evening of soul-stirring melodies and heartfelt lyrics as we present Adele by Candlelight, an exclusive concert performed by the multi-award winning Miss Julia Martin and described by Sky Television as 'Simply Phenomenal'. Prepare to be transported to a world of raw emotions and captivating music, all set against the enchanting backdrop of gothic architecture, vaulted ceilings, and flickering candlelight.
Adele by Candlelight is not just a concert; it is a celebration of Adele's remarkable artistry and the impact her music has had on millions around the world. Julia Martin, with her mesmerising voice and undeniable stage presence, will take you on a journey through Adele's chart-topping hits. From the hauntingly beautiful "Someone Like You" to the empowering anthem "Rolling in the Deep," every song will be delivered with the same passion and authenticity that Adele herself is known for.
Let the candlelight guide your emotions, bask in the magical ambience of the evening, and allow yourself to be swept away by the depth of Adele's music, as Julia's powerful vocals bring each song to life. Feel the goosebumps rise on your skin as the live band adds their own unique classical touch, creating a truly unforgettable and breath-taking musical experience, that will leave you spell-bound, and hanging on to every note and lyric.
The combination of hundreds of flickering LED candles, unique 'Coldplay' style audience LED wrist bands, and a remarkable moving-head light display, creates a unique added WOW factor that guarantees to make this an extraordinary evening of immersive entertainment, and a night to remember.
Please follow/like/share our social accounts, where you will have access to early ticket release, discounted tickets, upgraded tickets, and discounted merchandise.
Facebook: UniqueCandlelightConcerts
Instagram: UniqueConcerts
---
TICKET INFORMATION
Doors open 6.45pm, show starts at 7.30pm and finishes at 9.45pm. Tickets are available online, ticket prices range from £15-£42.50 (plus booking fee). This show is suitable for all age ranges.
Wheelchair and Ambulant Guests will be issued with a free carer ticket (subject to carer provisions being met). Please call our booking line 07787 362985 to discuss the purchase of carer tickets. We have ambulant and carer seats in all of our price banded sections.
To book a seat simply select the seats that you wish to purchase from the seating plan, these seats will then be added to your basket. Allocated seats are generally in price band sections VIP to Band D and all of these seats will provide unrestricted views.
Occasionally we may offer unallocated seating, if so this will be shown on the plan. Simply go to the unallocated seating section beneath the seating plan and select within which block section you wish to purchase your tickets. These seats are on a first come first served basis and you will simply select your seat upon arrival. Unallocated seats are generally in price band sections Band C to Band D these seats provide a mixture of restricted and unrestricted views, so please arrive early if you have booked unallocated seats. We guarantee that spare seats will always be left available within these unallocated sections.
TICKET PRICE BANDS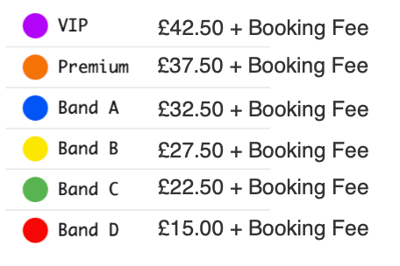 REFUND POLICY
We apologise but we are unable to offer refunds or exchanges on our ticket sales. If you hold a ticket and are unable to attend you can pass or sell this ticket onto a third party. The ticket cannot be re-sold above its face value.